BUILDING BACK
How Beirut mobilised after the blast.
The Beirut port explosion devastated the city.
It also inspired new ways to fund and mobilise emergency response.
The August 2020 explosion in the Port of Beirut was one of the largest non-nuclear blasts in history. The force of it ripped through the city, killing more than 200 people, injured 6,500, and severely damaging more than 9,000 buildings. At the time of the blast, Lebanon was already grappling with the Covid-19 pandemic, the burden of hosting 1.5 million Syrian refugees, political turbulence, growing food insecurity and unemployment. 
Alongside, a deepening financial crisis devastated the local currency, making life-savings worthless, and pushed up the cost of basic but vital imports, such as food and medicines.
In response to the explosion, millions of dollars were pledged to provide food and temporary shelter for the newly homeless, repair damaged buildings, and restore workplaces and livelihoods.
The funding offers came from a mixture of donors, ranging from international governments, development banks, and UN agencies, to private philanthropic foundations, international NGOs, and diaspora groups. 
While some of this money paid for traditional relief efforts delivered by international organisations, it was Lebanon's grassroots, frontline nonprofits and social enterprises that were the first responders.
Over a year on from the tragic events of August 2020, Philanthropy Age spoke to six diverse organisations about how they mobilised, the barriers they faced, and how their very localised response to the blast may well have created a new blueprint for emergency aid.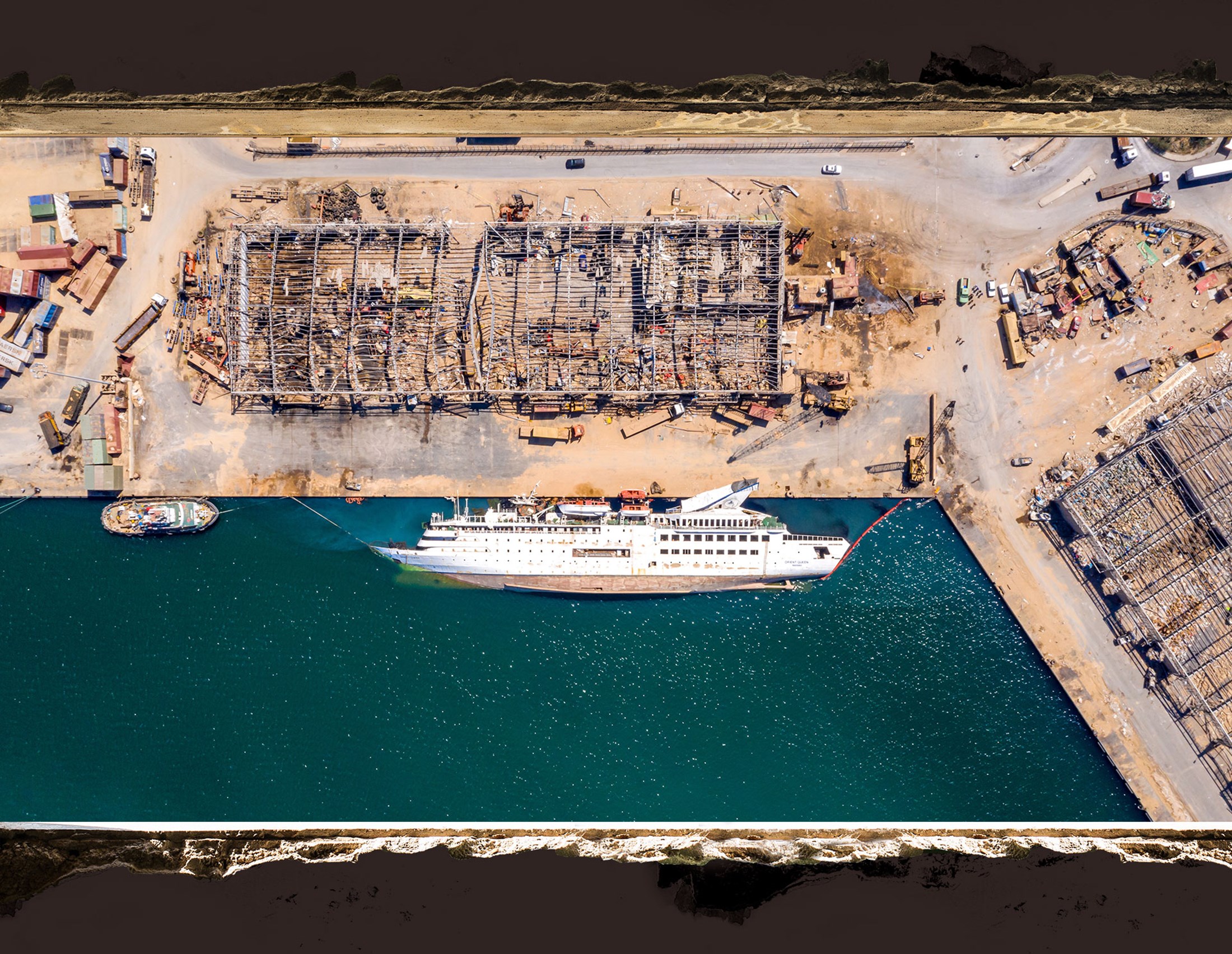 Frontline fundraising
Organisation:
Impact Lebanon: the diaspora initiative
Diaspora-backed Impact Lebanon raised more than $6m for grassroots NGOs and social enterprises working to repair Beirut after the blast.
Impact Lebanon is a UK-registered nonprofit formed in 2019 by members of the diaspora, following prolonged anti-government protests in the country. Its mission was to promote community activism and support creatives and entrepreneurs within Lebanon, at a time of both political and financial instability. 
Impact Lebanon had carried out some fundraising before 2020, but the volunteer-run organisation came into its own in the hours after the August 4th blast. It was among the first nonprofits to launch an online crowdfunding appeal, opening with a target of £5,000 (about $6,876). By midnight on the first day the fund had already reached $1m. When the organisation called time on the appeal 10 months later, it had topped $6m.
In addition to 171,922 individual donations – including from celebrities such as Madonna and George and Amal Clooney – the Beirut Disaster Relief campaign received $315,488 from a Sotheby's auction, and made more than $200,000 by converting collected pound sterling to US dollars. 
But raising the money was only part of the story. "It was very important for us to make sure this money would be spent responsibly," says Impact Lebanon co-founder Sibylle George. "That it would be allocated to the right organisations and meet the real needs on the ground."
Targeting six core areas including livelihoods support, restoration of housing and medical care, the organisation called on local nonprofits to come forward with proposals.
The decision to fund frontline organisations was deliberate, says Issam Zeitoun, another co-founder.
"We believe these organisations are more capable of understanding the needs on the ground and more connected to the people," he says.
From 150 applications, six organisations were chosen for rapid financing of $200,000. The funds were disbursed in October, months before most international money came through. Over the course of the year that followed, Impact Lebanon would fund a further 12, taking the total to 18. 
All NGOs – new and old – were subjected to detailed vetting by Impact Lebanon, in partnership with local nonprofit Qudurat, and 3QA, a social enterprise. This was to ensure grantees had the know-how and capacity to deliver the work; were not politically affiliated and were not duplicating existing aid efforts.
By the end of August 2021, Impact Lebanon's funds has restored more than 1,800 homes and 168 heritage units, and helped hundreds of micro and small businesses back to work with cash grants and psychosocial support.
NGOs who received funding included: Beit el Baraka; Nusaned; the Rotary Club; Beb w'Shebbek; Baytna Baytak; Basmeh & Zeitooneh; Alfanar; and Al Majmoua.
Committees were established to oversee funding streams, and the nonprofit partnered with Lebanese International Finance Executives, a UK-registered charity that provided banking support at a time of extreme fiscal pressure in Lebanon. None of these external services were paid for with money collected for the Beirut Disaster Relief but covered by internal funds.
The speed and competency with which Impact Lebanon mobilised has won the nonprofit praise within and beyond Lebanon, but Zeitoun remains modest.
"I don't think we made a model," he says. "I just think we did what everyone should do, which was ensure that we transfer other people's money as transparently and efficiently as possible. We are all volunteers but between us we have a lot of experience in different sectors, and Lebanon has a very talented diaspora that wanted to help in any way that it could." 
George believes the community nature of Impact Lebanon has been key to its impact.  
"We're very much a grassroots movement compared to other organisations that are much more top down. Everybody is here dedicating their free time because they're passionate and they really care about Lebanon. I think this is our strength, and why we were able to react faster than bigger organisations."
"It was important for us to make sure this money would be spent responsibly … and meet the real needs on the ground."
Sustainable support
Organisation:
Alfanar: the venture philanthropy organisation
Alfanar, the Arab region's first venture philanthropy fund, mobilised its portfolio of social enterprises to help with the Beirut response and create jobs.
Alfanar is the Arab region's first venture philanthropy organisation. Since its formation in 2004 it has blazed a trail in its support for social enterprises working in the areas of education, youth employment and women's economic empowerment in vulnerable communities. 
In the aftermath of the Beirut blast, the UK-registered Alfanar launched its Lebanon Emergency Relief Fund, raising just over $1m from a mix of private and corporate donors (including $383,500 from Impact Lebanon). The funds were used to repair damaged buildings, support small businesses and social enterprises with cash grants and crisis support, and deliver food to stricken families.
Front and centre in this response was Alfanar's portfolio of social enterprises. As Michelle Mouracade, Lebanon country director explained, the aim was to support local organisations "in a sustainable way", while also providing income opportunities to vulnerable populations. 
Through one of its investees, BEDCO by March, Alfanar helped to repair 70 social enterprises and businesses, as well as three schools. This not only helped restart commerce within the capital and bring children back into the classroom, but also created 110 jobs for disadvantaged Lebanese youths, who received training and work experience in the construction sector
Meanwhile, partnerships with Alfanar's existing food sector investees – the Lebanese Food Bank, ShareQ, Soufra, and Souk el Taybe – provided more than 130,000 hot meals, 3,000 food boxes, and created 66 catering and distribution jobs.
Finally, six of Alfanar's investees received stabilisation grants worth a collective £146,000. In parallel, the organisations were supported with crisis workshops to help them navigate the economic fallout from the blast, allowing for the creation of more than 130 new jobs.
 "In addition to the first order impact we had through emergency response, we also wanted to create jobs for vulnerable women and youth in Lebanon affected by the blast," says Myrna Atalla, the organisation's executive director. "We felt we could achieve these aims more efficiently and more effectively than traditional humanitarian organisations, which require time to ramp up their response efforts."
"We felt we could achieve these aims more efficiently and more effectively than traditional humanitarian organisations."
Stepping up
Organisation:
Beb w'Shebbek: the grassroots pop-up
Beb w'Shebbek, a grassroots pop-up, raised more than $2m and tapped local talent to help repair damaged buildings after the explosion.
Mariana Wehbe was in her office when the explosion ripped through downtown Beirut. Moments before, the businesswoman had stepped into the corridor to phone her daughter, a decision which she now says saved her from serious injury. 
"The following day, I was with my friend Nancy Gabriel, whose place had been completely destroyed, and as we were wondering how we were still even alive, we were getting all these calls from friends and clients wanting to help," she says. 
"I used to work in logistics, Nancy is in procurement, and between us we know a lot of designers and architects. So we thought, why don't we use the money people want to send us and mobilise to start fixing up the damaged houses so people can get back home. Literally, that was how it started."
Over a 12-month period, Beb w'Shebbek – which translates as 'doors and windows' – fixed up some 830 homes and collaborated with the nonprofit 'Let's Play' to help repair school playgrounds damaged in the blast. 
Mobilising architects, carpenters, contractors, glaziers, and painters to volunteer their skills, Beb w'Shebbek assigned teams to repair the homes of some of the city's most vulnerable residents. The team also supported other nonprofits, including the Beirut Heritage Initiative, with rehabilitation projects.
Donations ranged in size, from individual $10 donations via PayPal, to a $500,000 grant from the diaspora organisation, Impact Lebanon. They also received one-off gifts from Fondation de France ($118,000), the Eduarte Courtot Foundation ($50,000), Foundation Ghassan Ahmad ($50,000), and others. 
In total, Beb w'Shebbek, which received support with its financial processing from local nonprofit Unite Lebanon Youth Project, collected just short of $2m to fund its work, providing a standout example of how grassroots organisations can respond effectively in a crisis.
It was, however, a steep learning curve for Webhe, who had never been involved in an NGO before and found the paperwork challenging. 
"I remember thinking at the time that it was so crazy to take so long to release money when we were trying to move as fast as possible to respond," she says. "But looking back, it was so important that they vet us so thoroughly. I think we really showed some of the dinosaur NGOs in Lebanon how to do things."
"To be honest, I had no idea what we were getting into, we were just doing what we could at that moment to help our country rebuild, it was our duty," adds Wehbe, who became known for asking her volunteers to sing the Lebanese national anthem each morning before starting work. "We just knew that we didn't want any money to go to our government, so we ended up doing it ourselves. I still cannot really believe what we put together in the time and what we achieved."
"I think we really showed some of the dinosaur NGOs in Lebanon how to do things."
On the ground
Organisation:
Basmeh & Zeitooneh: the local NGO

Beirut-based NGO Basmeh & Zeitooneh says it's time to back local NGOs directly.
Founded in 2012, Basmeh & Zeitooneh provides a range of frontline support services, including vocational training, food aid, education, and community advocacy to Syrian refugees living in Lebanon. 
When the Beirut port explosion destroyed a large part of the old city, the NGO immediately mobilised its teams to help with the humanitarian response, supporting not just Syrian refugees but all residents. 
It began by delivering emergency food parcels and providing shelter, but also created programmes to rehabilitate homes, support small businesses, and provide cash for work
Basmeh & Zeitooneh received $2.2m in donations to pay for their work in those first few months. This included $499,500 from Impact Lebanon, as well as $750,000 from the UAE's Big Heart Foundation. The money enabled them to restore more than 100 homes (including electrics and plumbing) and supply meals, bottled water, and temporary accommodation in affected areas. 
"In the first few months after the blast, we did receive a sizeable amount of money, but this was mostly just acts of charity, explains Fadi Hallisso, Basmeh & Zeitooneh's co-founder and CEO. Then, he says, interest waned and all the larger, longer-term funding was directed to programmes run by international NGOs and UN agencies.
"Sometimes it feels like the system is not concerned with what people really need. Even $50,000 can do miracles when it's given directly to a local organisation, because we have minimum costs and fewer overheads," he explains. "When that amount is given to an international NGO, it's just pennies for them."
Supporting local NGOs directly "makes the most of limited resources", Hallisso argues, and, he says, helps smaller organisations to build capacity, rather than funding large agencies who then subcontract to frontline groups.
"We have a situation where we hire new graduates but after a year, once they have experience, they join an international organisation or agency for a larger salary," he says. "This reinforces a cycle whereby we can't get bigger to be able to apply for larger grants, but without the larger grants, we can't get bigger."
"Sometimes it feels like the system is not concerned with what people really need."
Growing through a crisis
Organisation:
FabicAID: the social enterprise

Social enterprise FabricAID swapped clothes for construction in the days after the blast.
FabricAID is a Beirut-based social enterprise that collects, recycles and sells second-hand clothes. Second Base, its newly-opened boutique, was reduced to rubble by the blast, which also left FabricAID's founder Omar Itani, who was in the store at the time of the impact, covered in blood and in need of more than 100 stitches. 
Despite the severity of his injuries, and the devastation to his business, within days of the explosion, Itani and his friends had mobilised a team of volunteers to begin clearing debris from the streets and buildings.
"It was something quite out of the scope of FabriAID," he recalls. "But because we already had trucks and staff members and a warehouse, and we already had networks, we were able to reach out to people very quickly and start work straight away."
The team set up a camp, hired a truck and – with money raised through online crowdfunding – repaired some 50 buildings in the following weeks.
Just two months later, FabricAID re-opened its Second Base store in a new location in the trendy Monot area of Beirut. It has since also opened Souk Okaz, a concept store offering cashback for high street brands sold on cheaply, begun operations in Jordan, and launched Second Base online for the UAE. 
FabricAID was able to grow – as well create much-needed jobs and provide affordable clothing to people in-need – thanks to financing and business support from venture philanthropy organisation Alfanar.  Alfanar in turn received funds from diaspora group, Impact Lebanon, to help its portfolio of social enterprises. 
"These were plans we already had," Itani explains. "But the blast has definitely accelerated things. Before the blast, we had a team of around 25, now we're more than 45, so it's expanded quite significantly.
"Because we already had networks… we were able to reach out to people very quickly and start work straight away."
Back to work
Organisation:
Near East Foundation: the international NGO

Why iNGO Near East Foundation prioritises livelihoods.
Near East Foundation (NEF) is an international NGO working across the Middle East and Africa, financed by a mix of philanthropy and international aid budgets. Its longstanding Lebanese programmes focus on livelihoods and food security support for Syrian refugees and their host communities. 
In response to the August 2020 port explosion, NEF launched its Beirut Explosion Livelihoods Recovery Fund with the aim of raising $1m to help affected micro and home-based enterprises restore their premises and resume business activities.
"Livelihoods are not typically considered a first response. But really in a lot of these fragile environments, and in the context of Lebanon, support for livelihoods is something that's really needed from the outset because aid only goes so far," explains Andrea Crowley, NEF's director of partnerships and philanthropy.
The fund capped out at $400,000, Crowley says, due to some donors preferring to back emergency programmes and others being wary about Lebanon's continued political instability.
However, with the money it had, NEF was able to work with SHEILD (Social, Humanitarian, Economical Intervention for Local Development) Association, a local civil society organisation, to help 130 small Beirut businesses back to work, restoring incomes, returning vital services back to affected communities, and using cash-for-work grants to pay local tradespeople to the work.
And, in partnership with ANERA (American Near East Refugee Aid), NEF also rehabilitated 40 homes, and separately set up a new Siraj Centre, a community-based livelihoods hub, to further support recovery efforts. In total, NEF's fund helped 1,200 people affected by the blast.
Crowley says there had been a strong push to support local and grassroots NGOs in response to the explosion and NEF had worked "rigorously" to ensure it supported local organisations and didn't duplicate efforts.
"We're operating on that nexus of humanitarian assistance and economic development," she adds. "We're looking to take a more sustainable approach; not just patching up a broken window with plastic, but actually fixing the window." - PA
"Support for livelihoods is something that's really needed from the outset because aid only goes so far."